More information about EDSC
Digital Education Action Plan – Action 9
Digital Competence Certification Community of Practice established by All Digital
ALL DIGITAL has been leading the discussion at European level regarding a homogeneous European framework for the assessment, validation and certification of digital competences. To this end, ALL DIGITAL has recently established and is maintaining the Certification Community of Practice (CoP), an international community of organizations and individuals with a strong interest in the certification of digital skills. Participation in the Community of Practice is open to anyone who is interested in the certification of digital competences.
Certification Community of Practice (CoP)
European Digital Skills Certificate (EDSC) Feasibility Study
The EDSC feasibility study
The EDSC feasibility study aims to support the implementation of Action 9 of the Digital Education Action Plan 2021-2027 by assessing the feasibility of a European Digital Skills Certification (EDSC). 
By exploring different scenarios for the certificate, including through a multiple-step consultation process with experts and stakeholders, the study will allow for the analysis of needs and design of the EDSC and governance option that best meets the needs of the stakeholders across  the EU, ultimately generating valuable recommendations for EDSC implementation.
The EDSC feasibility study is led by NTT Data, Empirica, All Digital. The contracting authority is the European Commission, Directorate General for Joint Research Centre.
The specific objectives of the study and the related consultation process are:
to map the existing digital skills certification schemes and digital competence development landscape in the EU addressing the digital competence of all citizens;
to analyse the demand for an EDSC to understand the role and added value of an EU Digital Skills Certificate and how it could support the recognition of digital skills in Europe;
to identify the minimum requirements for the EDSC;
to co-design the definition and operational model for the EDSC;
to carry out a feasibility analysis of the EDSC, taking into account considerations related to demand, strategy, technicalities, finance, governance, operations and implementation while ensuring alignment with other existing European initiatives and tools in the field of skills and employment;
to develop strategic recommendations for the EDSC implementation and define the purpose and steps of a pilot of the EDSC.
Participation in the consultation
As illustrated in the figure  (consultation plan), the consultation process envisages 5 main steps and will take place depending on topics and study aims through different means such as polls, participation in discussions, and focus groups and others, always online. Participation in the consultation process is open to anyone interested.
If you wish to participate, please register using the link at the bottom of this paragraph.
The research team will engage individuals and organisations registered on this portal in consultation and validation processes that will occur throughout the overall feasibility study.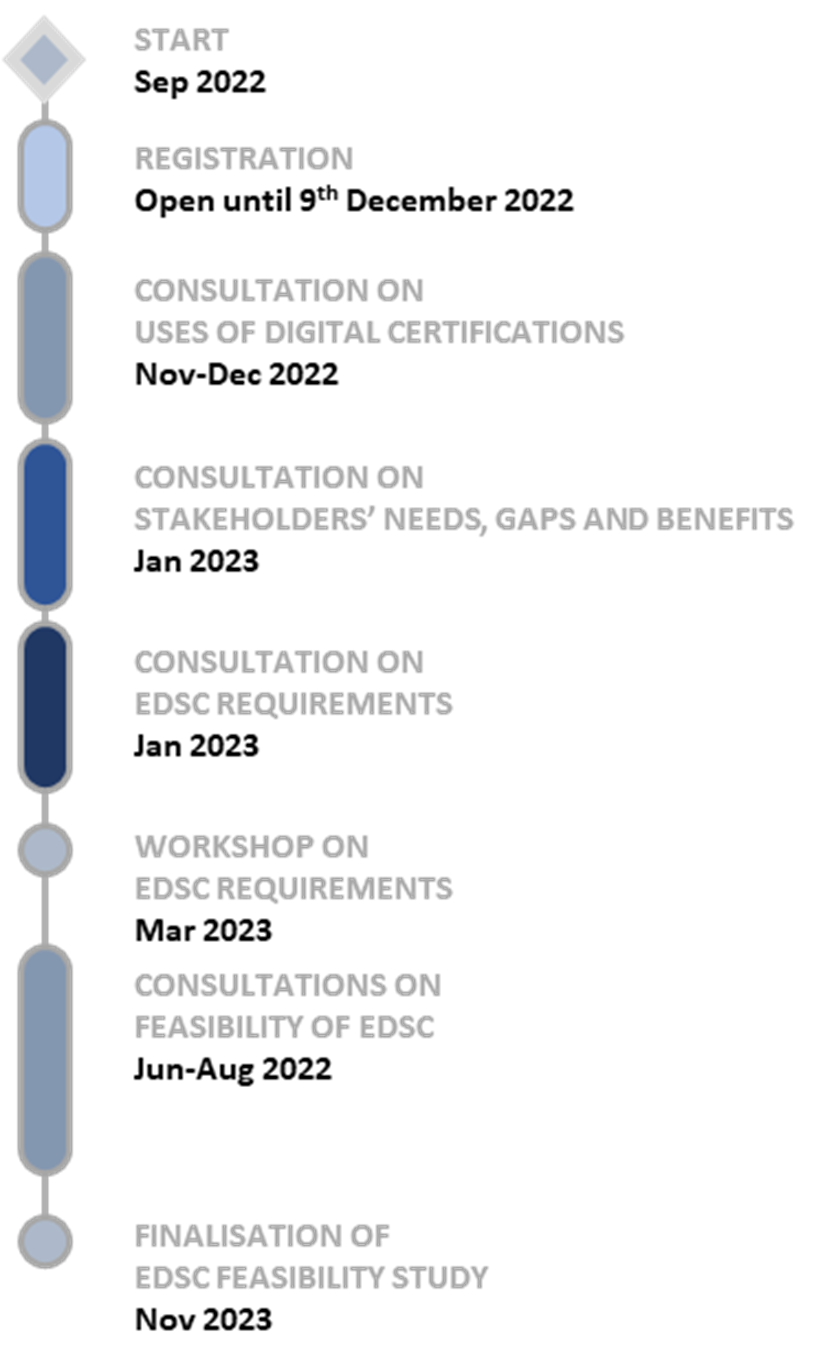 1 – Dates of the consultation plan are to be confirmed based on revised planning of the study.
We thank you for your interest in actively participating in the study. We look forward to working with you on the definition of the EDSC!